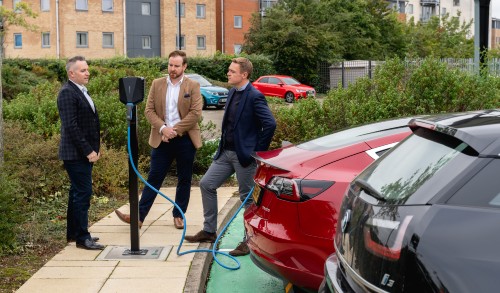 Replenishh was delighted to welcome Will Quince, the Member of Parliament for Colchester and Minister for Children and Families, for a preview of the new EV charging hub at our offices last week.

Mr Quince was given a demonstration of the charging units by Jim Rugg, Head of Replenishh, and James Bates, Managing Director of Rapid Electronics, as well as being provided with an insight into how they are operated, charging times and the technology behind the payment and load management systems.

There is capacity for 12 parking bays, served by a combination of 7kW and 22kW charging stations, from manufacturers including Easee, Wallbox and Schneider Electric, along with associated accessories from matt:e, Garo, Doepke, EV Blocks and NAL. Control panel manufacturer Easthill Faraday also helped design and build a bespoke distribution board.

In the site's initial phase of operation the chargers will be for the use of Replenishh and Rapid employees and visitors to the offices. The chargers will also be used to show potential clients and business owners how EV charging technology can be successfully integrated into their site infrastructure.

It was a great privilege to show Will our EV charging hub, which has been an educational project for us due to its unique concept, said Mr Rugg. It is a site that brings together a range of diverse solutions from our manufacturing partners, from the charging stations right through to the civils and distribution components. Support from our expert installation partners including ICEE Managed Services, SRG Electrical and VY Park has helped us fully understand and appreciate the complexities involved in building and maintaining an EV Charging infrastructure.

This is an ongoing project that we will continue to develop in line with new product and technology advancements in the industry, all with the objective of Replenishh playing a key role in supporting the electrification of the UK's EV charging infrastucture before 2030, the date the government has set for the banning of new petrol or diesel car sales, said Mr Rugg.