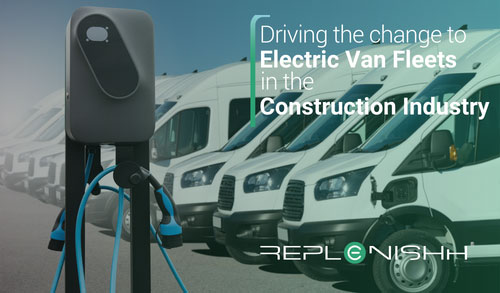 As the world becomes increasingly aware of the impact of climate change, net zero strategies and carbon reduction initiatives are becoming mainstream across many different sectors. Many companies are developing a conscience about the impact of their activities on the environment and are adopting more sustainable practices. This is being boosted by a variety of incentives from the UK Government to drive this forward and accelerate change. One major change is the transition to electric vehicles, whether that's the company car, or the entire vehicle fleet. The construction industry is a good example of this, with many of the larger names already phasing in electric van fleets.

Many construction and civil engineering companies, while moving towards electrification in their onsite plant and equipment, are prioritising the transition of their electric van fleets to support their projects. This is especially so, for the major construction firms that operate on a national level, who have net zero targets to meet, some as early as 2030 … which isn't that far away! Also, with a growing number of towns and cities introducing Ultra-Low Emission Zones (ULEZ) it is the proverbial 'no brainer' to consider zero-emission electric vans in place of fossil fuelled vehicles. Think of all those construction sites in inner-city areas, and it's easy to see, from both an economical and environmental perspective, why the race is on for van fleets to 'go electric'.

To achieve this, and to make electrifying van fleets practical, construction firms often require their own onsite EV charging stations. They need to be able to charge their electric van fleets, on demand, without being reliant on the public EV charging network, which still has some way to go. As many EV drivers will know, access to EV charging facilities can be difficult in certain areas. So being self-sufficient in terms of charging electric vehicles makes all the difference.

For construction van fleets, creating a purpose-built EV charging infrastructure is imperative to efficiency and productivity. That is why there is increasing demand for the installation of onsite EV charging stations, to reduce any downtime with their battery electric powered support vehicles. Construction projects are under pressure to meet deadlines, and can face financial penalties for late completion, so any delay for any reason, can be costly. Keeping support fleets moving is critical to this, so having onsite EV charging facilities becomes a necessity, rather than a luxury.

At Replenishh, we specialise in supplying specialist EV charging equipment to the trade and carry a huge stockholding of EV charging units, components and associated installation equipment. This, together with our depth of knowledge about EV charger installation, has enabled us to become a market leading specialist wholesaler and distributor of EV charging equipment in the UK.

Replenishh supports the electrical trade working on all types of EV charger installation projects, and can even assist with EV installation training and advice should it be required. We regularly facilitate and host training for electricians looking to become qualified in EV charging installation, and also help those who are already qualified to gain brand-specific training.

Driving us, is our own commitment to reducing carbon emissions, which is why we, as a business, place great focus on supporting the shift towards EV. A large part of this is supporting the trade that is 'making this happen'!

We may have singled out the construction sector, but we understand that it is a significant time of change for many industries, who operate fleets and company cars. Having access to convenient and reliable EV charging units, that are well-specified to suit the type of vehicles being charged, is pivotal to the pace and successful take-up of electric vehicles.

Replenishh makes it our business to support this process by offering electrical contractors and EVC installers, not just an extensive range of products, but also an exemplary service. The customer is always King at Replenishh. We believe in providing quality customer service with a 1:1 personal touch for those who require assistance.

Similarly, we value our reputation for reliability and ensure on-time delivery of specialist customisable products to EV Charging (EVC) installers, giving peace of mind to our customers. It always our aim to make dealing with us an easy, efficient and helpful experience.

And, of course, we understand that 'price matters'. Replenishh offers competitive trade prices for those who sign-up to a trade account. If you are in the trade, and want to take advantage of this, please visit our website to open a trade account online.

Our customers' satisfaction is our top priority. It is through this that we have established trust from the industry, and have become the 'go to EV charging equipment supplier' for many contractors.

We, ourselves, are passionate about the environment and committed to reducing our carbon footprint, which is why we strive to adopt sustainable practices in every aspect of our business. This extends to the products we stock. Where possible, we supply customers with eco-friendly products, including options made from recycled materials. Our mission is to be the simple, confident and trustworthy choice for EVC installers in the UK.