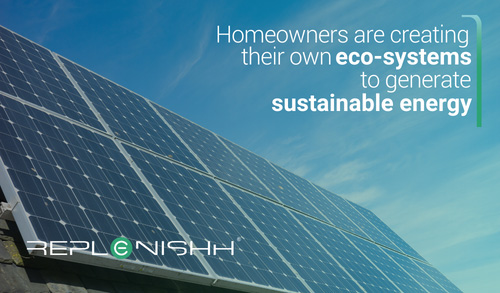 With the growing awareness of climate change and the need to reduce carbon emissions, many homeowners are taking steps to create their own energy eco-systems. These eco-systems use renewable energy sources and smart home technology to make homes more self-sufficient in terms of energy. We explore how homes are creating their own energy eco-systems and how Replenishh's products can help.

New Home Builds Must Include EV Charge Points
In 2022, The UK government recently announced that all new homes built must include electric vehicle (EV) charge points. This is a major step towards promoting sustainable transport and reducing carbon emissions. With more people switching to electric vehicles, it's important that homes have the infrastructure to support them. By having EV charge points installed in new homes, homeowners can charge their vehicles overnight and take advantage of cheaper off-peak electricity rates.

Solar power remains a popular renewable energy source in homes in the UK, there is a total of 14.8 GW installed UK solar capacity across 1,284,121 installations up to February 2023 according to official UK government sources that are generating electricity from solar panels. Solar energy allows for much less dependence on the utility companies and can even create more power than the home needs, in this instance the owner receives money back from the amount exported to the grid via the smart export guarantee. The benefits of self-sufficiency are they allow limiting the effects of increasing energy prices in the current market. Research from Energy Savings Trust estimate a typical household with a 4.2 kW system may see a reduction in energy bills ranging between £210 and £514 per year when considering price caps rates from October 2022, however this is dependent on the size.

Skills Shared in this Space
The installation of solar panels and EV charge points requires skilled professionals. There are many companies and individuals who specialise in these areas and can provide installation and maintenance services. From a customer perspective, it is important to choose the right qualified specialists to complete the works; for Solar PV Installers, always select MCS Certified engineers and for EV Charging, choose OZEV Approved service providers. Additionally, there are many online forums and communities where homeowners can share their experiences and knowledge of creating energy eco-systems.

Which of Our Products are Solar Compatible?
Zappi is an electric vehicle (EV) charge point developed and manufactured by Myenergi. It is an innovative and intelligent charging system that is designed to work with all types of electric vehicles, including plug-in hybrids and fully electric vehicles.

The Zappi charger has unique features that make it different from other EV chargers. One of its most notable features is its ability to control the charging speed based on the available solar energy. This means that it can intelligently adjust the charging speed to match the solar energy generated by solar panels installed on the property. Myenergi are also bringing to market the Libbi, a modular battery system that will store your electricity to use when you need it most, and will fully integrate with the Zappi Charger to increase your energy independence. This feature ensures that EV owners can use clean, renewable energy to power their vehicles, reducing their carbon footprint and energy costs.

In addition, Replenishh offer other market leading charge points with Solar Functionality, including EO Charging, Wallbox, Indra, VCHRGD and Easee with their Equalizer solution.

Conclusion
Creating an energy eco-system in your home is a great way to reduce your carbon footprint and become more self-sufficient in terms of energy. With the UK government promoting the use of renewable energy and sustainable transport, now is the perfect time to start creating your own energy eco-system. By using smart home products, homeowners can take advantage of solar power and other renewable energy sources to reduce their energy consumption and save money on their bills.