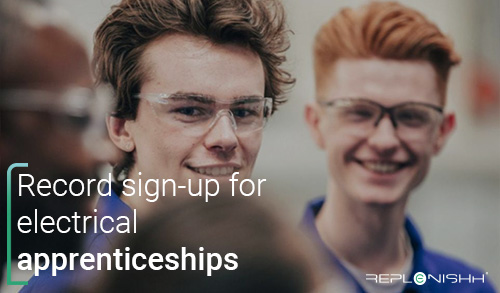 As a major B2B wholesaler of EV charging supplies, Replenishh welcomes news from Scotland about record numbers signing up for electrical apprenticeships in 2022, which is yet another positive step forward to shore up skills in the electrical trade.

The Scottish Joint Industry Board (SJIB) reveals that its Electrical Apprentice and Adult Training Programmes, managed by the Scottish Electrical Charitable Training Trust (SECTT), has risen from just over 800 in 2021 to nearly 1000 in 2022, the highest intake for 13 years. It comprises some 800 apprentices and 157 adult trainees, equating to a total number of 3000 individuals participating in training in Scotland. And understandably so, as a profession that offers rewarding career prospects for many aspiring electricians.

Driving this to some extent has been the pandemic, at a time when the construction industry was booming and demand for qualified tradespeople intensified. It's a sector that still remains eager to recruit apprentice electricians, even when taking the current economic climate into consideration. But it's not just construction. With the future looking very much 'electric', the electrical trade is an exciting sphere, especially given the rising popularity of electric vehicles in the countdown to net zero carbon emissions, which is creating ever-growing demand for qualified EV charging installers.

In an article in the Electrical Times, Fiona Harper, Secretary of the SJIB, said: "There remain many challenges for the construction industry, but it is heartening that the demand for electrical apprenticeships, and the willingness of employers to make them available, continue to grow." She continues by saying that: "The industry has been concerned for some time about skills shortages as the demand for qualified electricians accelerates" summing up by explaining that the new recruits will go a long way in easing such fears with a "real appetite to learn leading edge skills."

Industry concerns about skills shortages have been echoed by trade bodies such as the ECA, BESA, SELECT and SNIPEF following data from surveys. In the Building Engineering Business Survey published in early 2022, 47% of respondents cited one of the main worries as being "attracting the right calibre of people to the business". The same survey highlighted that apprentice employment rates were showing signs of improvement.

Andrew Eldred, ECA Director of Workforce and Public Affairs, is quoted as saying on the ECA official website that: "We have seen record levels of apprentice recruitment this year so far. While skilled personnel might still be in short supply, it is promising to see so many firms picking up the baton.

"We still have some way to go to reach the apprentice recruitment levels of our counterparts in Europe, but the right course is being set for the UK to develop a flexible and competent electrical workforce in sufficient numbers to meet growing demand and ultimately help deliver Net Zero on time."

Looking at the niche area of EV charging installation, the need for electricians to expand their skillset through specialist courses dedicated to training EV installers is greater than ever. The planned ban on the sale of new diesel and petrol cars by 2030, and hybrids in 2035, crystallises the opportunities for electricians to become qualified EV charging installers.

"As electric vehicles become more and more popular, the charging infrastructure is still lagging behind which means EV charging projects will accelerate at pace as they are forced to catch-up to meet the growing demand. This is fast-evolving, and a great incentive to pursue a career in the industry which has yet to reach its peak," says Jim Rugg, Head of Replenishh.

He continues: "We are hugely committed to professional training initiatives and that is why Replenishh is so proactive in promoting the importance of electricians gaining formal qualifications in electric vehicle charging, as underpinned by our partnership with City and Guilds in offering training courses."

The other important factor is that government grants for EV charge point installation are only eligible if the work is carried out by an Office for Zero Emissions Vehicles (OZEV) approved installer, and to get on this foot of the ladder, requires a formal qualification as an EV charging installer. And it could certainly be worth it. The European Association of Electrical Contractors speculates that 1.2 million jobs could be created in the electrical industry by 2050 if the car market goes fully electric, with significant demand for EV charging installers.

Updated Building Regulations are also spearheading demand for qualified EV installers, especially for home charging. They stipulate that all new residential dwellings and new non-residential buildings with associated car parking have a smart EV charging installed. Again, this opens new possibilities for electricians looking to add another 'string to their bow' and extend their skillset.

And, if exploring the options to become an EV charging installer, Replenishh as a leading one-stop-shop to the industry with an enormous stockholding, is an invaluable resource to many electrical contractors in all nations of the UK. Replenishh has an unrivalled depth of understanding about the EV charging industry to support installers with their EV charging projects and stocks a vast range of compliant equipment from many reputable manufacturers, supplying the trade at competitive prices with the option of next day delivery.
"We go beyond supplying electrical contractors, we go that extra mile to support the future of the profession, which we believe to be very bright indeed. We now need those who enter the trade as apprentices to consider becoming qualified EV charging installers as the importance of 'electric' on the road to net zero should not be under-estimated. It's the perfect time to get involved," says Jim Rugg.