Replenishh has recently supplied EV charging stations as part of an installation project at Optima 125, a new commercial unit at Hounsdown Business Park, Southampton. In total six Schneider Electric
7.4kW EVLink Smart Wallbox Type 2S charging stations
were fitted in the car parking area of the unit, with two fitted to each post. The chargers are individually fed via underground cables running in duct from an existing electrical panel in the main building.
The charging stations were fitted by OLEV-approved electrical contractor ElectrAssure, a specialist in workplace and public EV charging. ElectrAssure has experience of over 400 EV installations including projects for National Grid, British Car Auctions and Saint Gobain. Sustainable development transport company Hangar 19 provided its cloud-based chargepoint management system, ParknRecharge. ElectrAssure uses ParknRecharge to remotely monitor and manage the chargers and so maximise their availability.
Loyd Davies, Director of ElectrAssure, managed the procurement and installation of the charging stations. "I was delighted to work with Replenishh on this project. I chose Replenishh to supply the principal EV charging hardware because of their relationship with Schneider and their excellent level of service."
"ElectrAssure delivered the full solution including design, groundworks, electrical installation, bay marking, systems management and maintenance. It enabled us to deliver the project quickly and efficiently with the only delays caused by very heavy rain during December."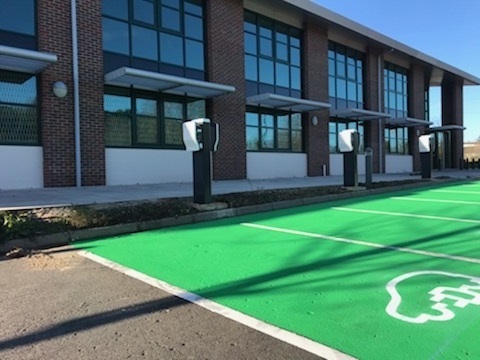 The 7.4kW charging station will charge a 30kWh EV battery in four hours, which is ideal for an employee car park where vehicles will be parked for the full working day. There is scope to add further capacity to the Hounsdown site using the electrical and data infrastructure put in place. In fact, under planning rules, 20% of all total parking spaces in new developments have to be active EV bays, and at least 10% passive (ie. EV-ready but not yet online).
"Projects like this demonstrate that Replenishh can supply site-ready EV products at very competitive prices which meet the standards of installers and project managers," said Jim Rugg, Head of Replenishh. "We were delighted to be able to work with ElectrAssure and Hangar 19 on the Hounsdown installation. We look forward to working with them both again on other projects and growing our network of installers."
Replenishh supplies charging stations by Schneider Electric and EO, and provides training courses to help OLEV-approved electrical contractors specify, install and maintain these units. For further information about becoming part of the Replenishh installation network please contact Jim Rugg on 07825 041904 or email
Jim.Rugg@replenishh.com
.
www.replenishh.com