As the need to install more EV Charging points becomes an ever greater priority for homeowners, businesses and service providers, what does this mean for purchasing teams? What products do they need to specify if they are given an EV charging project? What questions should they ask to ensure the most efficient use of resources?
Replenishh's EV technical and specifications manager Jim Rugg (below) offers advice on what to consider when specifying electric vehicle charging technology.
Technology and Speed
Full electric and plug-in hybrid vehicles can be charged using AC or DC power and there are different connectors for each. AC, also known as Mode 3, have Type 1 (five pin) connectors which can charge at 3.3kW and 7kW and Type 2 (seven pin) up to 22kW. A building running on single phase AC power can only accommodate up to 7kW. Three phase power systems are suitable for higher loads and are more commonly found in commercial premises that can potentially accept 22kW EV charging stations, or even DC chargers depending on site capability.
DC is the fastest type of charging technology and can charge at up to 50kW – effectively charging a car to 80% battery capacity in around 20-40 minutes via a 480V DC connection. DC connectors are known as CHAdeMO, Combo 2 CCS or Type 2. But not every vehicle can accept DC charging and not all sites have access to the kind of power that DC charging demands. These are also inevitably the most expensive option.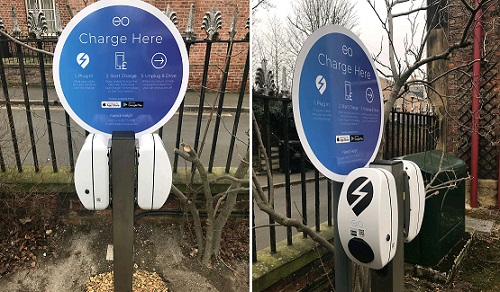 Convenience is key
EV charging ultimately revolves around the driver and how easy it is to charge their vehicle.
If the site is intended for employees, 7kW charging stations are ideal. A Type 1 or 2 7kW charging station will charge a 30kWh EV battery in around four hours. Most businesses have a fairly regular traffic pattern. A car spending eight or nine hours in the same location is ideal for single phase charging at 3.3kW and 7.2kW, but if you also have regular visitors making stays of between one and two hours, it may be worthwhile considering a charging mix that includes at least one three phase 50kW Rapid DC charger.
Key to the specification is understanding the available spare capacity on site. Replenishh's EV charging partners Schneider Electric and EO both offer smart load management functionality to regulate the available load to the charging stations, thereby avoiding potential power issues on site.
Wall mounted units are more cost effective because of the greater ease and convenience with which they can be wired into a building; the cables for floor mounted chargers need to be laid underground.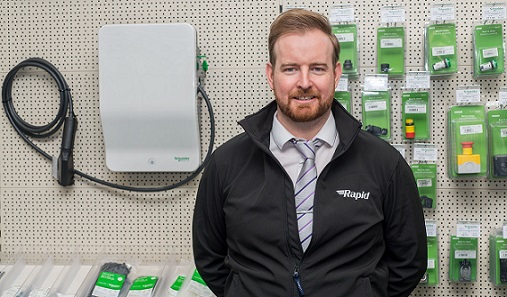 Backend basics
A cluster of EV chargers requires a backend system. Whether you want to restrict access to the charging stations to a specific user base, monitor their usage or introduce a payment method, these features will have to be included in any software linked to the chargers.
To future-proof the network you will need to connect software and hardware via an Open Charge Point Protocol (OCPP). This guarantees continuity of service if you change software or hardware providers.
To simplify the process, Replenishh provides a one-stop shop solution, from backend to switchgear, cabling and trunking to distribution boards. The Replenishh network of approved installers work in partnership with Schneider Electric and EO, and ParknReCharge, a payment solution designed by Hubeleon. Through this service Replenishh takes care of the whole process including procurement, installation and maintenance, based on an organisation's specific needs or traffic patterns.
For more information please drop Jim an email: jim.rugg@replenishh.com or visit www.replenishh.com.
This article first appeared in the June 2019 edition of Electronics Sourcing.