Head of Replenishh Jim Rugg has recently taken ownership of a BMW i3, an EV with an official range of 186 miles – though in reality its motorway range is in the region of 130-150 miles. Driving the i3 up and down the country for work will give Jim a great insight into the state of the UK charging network, and the issues that EV drivers face as they look to keep their cars topped up.
There are areas within the UK that are seen as 'black spots' for charging coverage. One of these is Cornwall. So on a recent trip to the county he saw for himself what the reality was for EV drivers in the West Country.
'As it is a 325 mile journey to my destination in Cornwall I needed to charge up twice on the way down. I used two Rapid DC charging points, each taking 40 minutes. Both were easy to use and straightforward.'
'Upon arriving in Cornwall I thought it was a good idea to top up at the nearest Rapid DC. This was at a local Fire station, which didn't give me many options to keep me entertained!'
However, the charging station had other ideas to keep Jim "entertained".
After less than five minutes the charger reported an error code with the CCS connection. After contacting their service line and resetting the Rapid DC unit, Jim tried again but the issue continued. 'In the end I was told that further diagnostics would be required, so all I could do was use the AC connector, which limits the charge output to 11kW AC. That's the max the BMW can charge at on AC, so there is an inevitable increase in charging time.'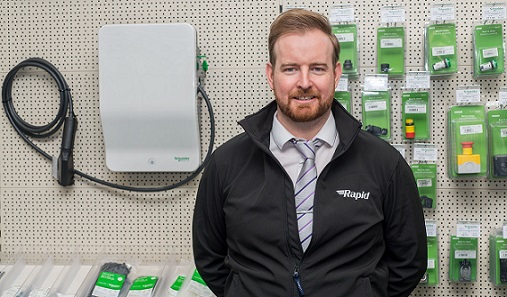 It's not a sin to use the 3-pin
Back at his hotel Jim (pictured, right) was forced to revert to the "dreaded" 3-pin plug charging option. In this kind of situation you should always check for permission first, which Jim did with the hotel manager. What this does highlight is that hotels are one of those type of sites that have to put EV chargers on their facilities agenda as a matter of urgency.
On the return journey Jim stopped at Fleet Services on the M3. They have two Rapid DC chargers – only one has a suitable DC CCS Connector which he needed to charge his i3. However, a Nissan Leaf was using the other charger and only one DC Connector can charge a vehicle at any given time, so there would be a wait.
'I checked ZapMap and found another DC Charging station less than five miles away in a Business Park. Yes, it was good to find somewhere to charge, and a business park on a Sunday afternoon is always likely to be available, but on the other hand it is not the most exciting way to spend 40 minutes or so. If there had been one at a supermarket this would have been much more convenient.'
So, in summary, Jim found Cornwall was not quite the 'EV ghetto' it is painted out to be. 'There are enough charging stations to get around but major improvements are needed. For example, there needs to be more Rapid DC stations, and more in the right locations. Service providers and hotel groups need to cater for the increased demand that will inevitably take place.'
Replenishh supplies charging stations by Schneider Electric and EO, and provides training courses to help OLEV-approved electrical contractors specify, install and maintain these units. For further information about becoming part of the Replenishh installation network please contact either Damien Cope (07825 041904/Damien.Cope@replenishh.com) or Jim Rugg (07747 460443/Jim.Rugg@replenishh.com).

www.replenishh.com